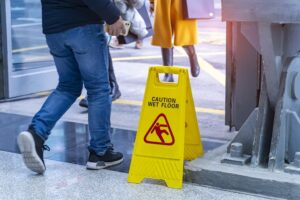 It may all be for laughs in the movies, but real slip and fall accidents can be deadly. Falls are often listed as the third largest cause of death for Alabama workers. Yes, death. The average cost of medical care is more than $30,000.
Though people often think that the words slip and fall are redundant, they are actually two different types of injury. A slip happens when there is too little friction between your foot and your walking surface. Think about water on a store's linoleum. A fall requires a slip plus body movement that makes you lose your balance. Think of your foot on a ladder.
My partner, Bill Eiland, is known as one of the state's best slip and fall attorneys. He is often asked to take over cases other lawyers find too difficult. That is because every slip and fall case requires the wrongdoer to know, or should have known, about the danger. It sometimes requires a lot of good lawyering to prove that.
One thing that might surprise you is that slip and falls are not just against businesses. Your friends and neighbors are legally responsible for keeping their home and property safe. Another surprise is that these cases are often a fight with the homeowner's insurance company and not directly with the neighbors.
If you are the victim of a slip and fall, my number one piece of advice is to get medical care. You will need that documentation if you plan to collect for your injuries.
If you suffer from an accident – car, boat, on-the-job, slip and fall, nursing home abuse, etc. – you can talk to us at the Law Firm of Eiland and Ritchie (251) 666-1212. Remember that chat is free. We want to help you.
Join us on Sunday night for a shortened NBC 15 LawCall show here in Mobile. We are taking a break during football season but will return to our 30-minute show in January. All this fall, we are putting aside a few extra hours Monday mornings to answer any of your legal questions. Just call our office.
Allen Ritchie