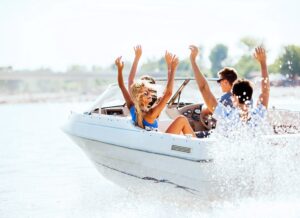 You have heard about the terrible boating accident on Dog River. But do you know what law applies?
If you are hurt on the water, the most important thing about getting compensation for your injuries is if federal or state laws apply. That is why you need a lawyer who understands how things work here on the Gulf Coast.
The confusion happens because the federal government controls some water, and our state controls the other.
Let me give you some differences that can directly impact your case.
Under maritime law, what you collect is reduced by your responsibility percentage. So, 10% at fault? Your money is reduced by 10%.
Under Alabama law, you collect nothing if you are even 1% at fault.
Under maritime law, you have 3 years to file a lawsuit.
In Alabama, you have 2 years to file. (NOTE: after that, your chance of getting recovery money is gone forever).
WHAT TO DO IF INJURED
Here at Eiland & Ritchie, we have 3 general rules for any accident.
First, get medical attention. You will need proof from a medical professional that you were injured.
Second, if you can, get evidence. Get photos and witness names. All of this can be very difficult to collect later.
Third, report the accident. You are legally required to do this, but you will also need the report if the insurance company wants to deny the claim.
If you suffer from any personal injury accident – car, boat, on-the-job, slip and fall, nursing home abuse, etc. – you can talk to us at the Law Firm of Eiland and Ritchie (251) 666-1212 for free. We want to help you get back on your feet.
Plus, join us on NBC 15 LawCall here in Mobile every Sunday night at 10:30, right after the news. We'll have some legal information you can use. Plus, we specifically set aside a few hours on Monday morning to answer any questions you may have in real-time. Just call our office.
Allen Ritchie
Alabama Personal Injury Lawyer