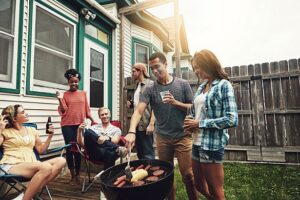 You're hot, you're thirsty, and someone gets hurt. And often, it involves water or roads. Welcome to the 4th in the South.
This Allen's Answers is my annual plea for you to take things slowly and safely.
In our nation, 68 million cases of beer are bought over the 4th of July holiday. And that is not all the alcohol we purchase. Even if you don't drink, you need to watch out for those who do.
Usually, I warn you about something like fireworks this time of year. But as my clients can tell you, there are so many other ways to get hurt.
Let me shock you.
The 4th is the deadliest holiday of the year.
Roughly 5,000 people will die this holiday period. That is approximately 100 people per state. 100!
The major causes of accidents are:
Excessive alcohol consumption.
Excessive vehicle speed.
The vehicle operator is not paying attention.
These causes are true on the roads and the water. Here are a few shocking statistics about boating.
On average, nearly 90% of people who drown do not have on a life jacket.
Every year, there are nearly 250 accidents where someone is hit by the propeller. Yes, the propeller.
OK, let's not forget about fireworks safety. Statistically, 200 to 300 people will go to an emergency room with fireworks injuries every day of this holiday. That number could be more this year. I saw one statistic that shows fireworks sales have increased by 700%.
Here are my annual safety tips for the 4th:
Leave fireworks to the professionals. Go to a large community event.
Don't drink and drive, or boat, or even bicycle.
And lastly, don't be stupid. I think Ben Franklin said that … or something like it.
I hope you enjoy the 4th and spend some time celebrating our great country. I know of no better place to live.
If you suffer from any personal injury accident – car, boat, on-the-job, slip and fall, nursing home abuse, etc. – you can talk to us at the Law Firm of Eiland and Ritchie (251) 666-1212 for free. We want to help you get back on your feet.
Plus, join us on NBC 15 LawCall here in Mobile every Sunday night at 10:30, right after the news. We'll have some legal information you can use. Plus, we specifically set aside a few hours on Monday morning to answer any questions you may have in real-time. Just call our office.
Alabama Personal Injury Lawyer