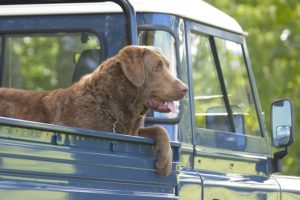 This is about – doing what's right or doing what's legal.
Last week my article on riding in pickup truck beds got a lot of attention. Honestly, it may have been primarily because of the picture that showed a cute dog. But thanks to our canine-friendly readers, I now know something I did not know. I suspect this news will shock you just as much as it did me.
First, a little background, I was asked if it was legal in Alabama to ride in the bed of a pickup. If you are 15 or over, it is perfectly legal. That doesn't make it safe. In the U.S., about 200 people die each year from truck bed accidents.
Now, guess how many dogs are killed while doing the same thing. 400? 1,000? Think again. The answer is 100,000 a year. This fact is according to the Humane Society of the United States.
In Alabama, it is not illegal to put your dog in the back of a pickup. In fact, our state doesn't have any laws at all about dogs in truck beds.
Alabama is not unconcerned about animals. There is a law about the cruel treatment of a pet, and if found in violation, you could pay a fine of several thousand dollars and end up in jail for a year. But would a judge or jury think that your placing Rover in a truck bed was cruel? Probably not. At least not in our state.
So, what do you do? Here is some advice from people who probably know. The Humane Society says it has not found any harness to keep a dog safe in a truck's bed. If you transport a dog by truck, it suggests the animal be restrained and ride in the cab.
Back to the original question: do what is right or do what is legal? I am your lawyer, not your minister, but for the sake of those 100,000 pets, I hope you will do what is right.
Join us on NBC 15 LawCall here in Mobile every Sunday night at 10:30, right after the news. We are taking a fall break and will offer 5-minute segments for the rest of the year and a live call-in segment every Monday on NBC 15 at around lunchtime. You can also call the Eiland & Ritchie offices at (251) 666-1212. We specifically set aside a few hours Monday morning to answer your questions.
Alabama Personal Injury Lawyer